In his video: There Is Life After Homelessness: Meet The Mayor Of Wentzville
"Homeless has a name."
What is Invisiblepeople.tv?
From Mark Horvath
Founder of InvisiblePeople.tv
I once heard a story about a homeless man on Hollywood Boulevard who really thought he was invisible. But one day a kid handed the man a pamphlet. The homeless guy was shocked and amazed, "What! You can see me? How can you see me? I'm invisible!"
It isn't hard to comprehend this man's slow spiral into invisibility. Once on the street, people started to walk past him, ignoring him as if he didn't exist… much like they do a piece of trash on the sidewalk. It's not that people are bad, but if we make eye contact, or engage in conversation, then we have to admit they exist and that we might have a basic human need to care. But it's so much easier to simply close our eyes and shield our hearts to their existence.
I not only feel their pain, I truly know their pain. I lived their pain. You'd never know it now but I was a homeless person. Fourteen years ago, I lived on Hollywood Boulevard. One day, I found myself looking away, ignoring the faces, avoiding their eyes — and I was ashamed.
So, for the past few years I've been telling their stories.
The purpose of InvisiblePeople.tv is to make the invisible visible. I hope these people and their stories connect with you and don't let go. I hope their conversations with me will start a conversation in your circle of friends.
The invisible guy didn't intend to become homeless. I didn't plan on living on the street. Everyone on the streets has their own story, some made bad decisions, others were victims, but none of them deserve what they have been left with, and it is a reflection of our own society that we just leave them there. Please always remember, the homeless people you'll ignore today were much like you not so long ago.
About InvisiblePeople.tv
InvisiblePeople.tv is a grassroots 501(c)3 nonprofit founded in 2008 by advocate Mark Horvath (@hardlynormal on Twitter). The organization is primarily self-funded, along with a $50,000 grant from the Pepsi Refresh Challenge. After building a successful career in television syndication, Mark found himself homeless in 1995 following a battle with addiction. He worked hard to clean up his act, and was again living comfortably by 2007 with a three-bedroom house and a 780 credit score. But then the recession hit. After several layoffs and a foreclosure, he was once again facing homelessness. That's when Mark launched InvisiblePeople.tv with just $45 and a budding interest in online social media. In November 2009, he was named "one of the top activists to follow on Twitter" by the Huffington Post.
Connect with InvisiblePeople.tv:
http://invisiblepeople.tv
http://invisiblepeople.tv/twitter
http://invisiblepeople.tv/facebook
http://invisiblepeople.tv/flickr
http://invisiblepeople.tv/youtube
E-mail Mark at InvisiblePeople.tv: info (at) invisiblepeople (dot) tv
Why did CupcakeCamp LA pick InvisiblePeople.tv as a featured charity?

Message from Babette Pepaj, founder of BakeSpace.com & CupcakeCamp LA Producer
I can't remember the first time I spoke with Mark and I think it's because I instantly felt a sense of connection and a deep, profound respect for what he was going. There wasn't that "now we're friends" or "let's try to connect" feeling. We were already friends.
Mark and I have a lot in common. We're both ex TV people making our way through technology and social media in Los Angeles and we're both building something in a truly grassroots style.  We're survivors and survivors can spot each other. There's a bit of an edge to us and we're not afraid to take chances because there is no one telling us what we can and cannot do.
So when I started seeing Mark's InvisiblePeople.tv  videos pop up everywhere on Twitter, Facebook and Youtube, I started understanding what InvisiblePeople.tv was all about.  It's not about Mark. It's about understanding that the homeless people you see have a story. And not in that "you owe me so give me money" or "I'm just a victim" way. They are survivors. Each new day is about just making it to the next.
The following InvisiblePeople.tv video breaks my heart… it has a woman who's so down on hope that when Mark asks her what she wishes for, she can't even bring herself to one happy, hopeful thought about her future. Yet, when the interview is done, she wishes Mark much success with his project. It's such a gracious moment almost missed if you're not paying attention. It's moments these thatt I think InvisiblePeople.tv is at its best.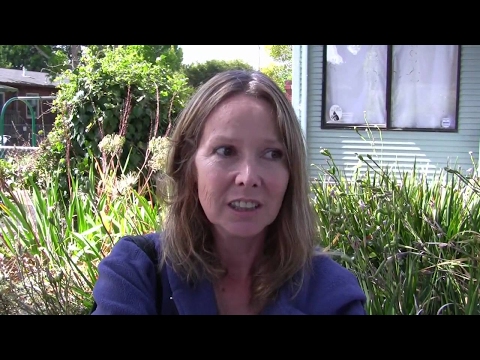 So, when I started thinking about the charities we'd like to connect with for CupcakeCamp LA, I actually thought about asking Mark what homeless charities in LA he recommended. Because to me, Mark never came off as someone asking for help. So it didn't initially occur to me that Mark's InvisiblePeople.tv was a charity. He never asks for help. This is why Mark's charity is here. You have to support people who have so much passion that they are working feverishly to tell other people's stories.
See more videos on http://invisiblepeople.tv/youtube
Not attending CupcakeCamp LA, but want to donate? You can do that here: